A-TEC was founded in 1999 by Anders E. Johansen in Norway. He started development and production in the garage and with no more than a dedicated interest in making better silencers.
A-TEC was founded in 1999 by Anders E. Johansen in Norway. With no more than a dedicated interest, Anders started developing and producing improved silencers in his garage.

Anders noticed early on that the existing technology and construction were obsolete.  He achieved major improvements in performance, weight, construction and design – and the birth of a new silencer era was set.

From manufacturing silencers in his garage for hunters in Norway the successful company is now located in a top modern factory of 600 sqm. A-TEC provides professional management and employees who manufacture more than 20 000 silencers to a market ranging from the Northern Europe all the way to New Zealand.
RESEARCH & DEVELOPMENT
Since the very beginning, A-TEC has acknowledged the importance of quality time and resources in research and development in order to stay ahead of competitors.

This has positioned A-TEC as a leading brand in Europe.

In the last two years A-TEC invested 1.2 million Euro in R&D and redefined silencer geometry.

We are using the know-how gained from this investment to extend the boundaries of silencer technology.
SILENCERS
A-Tec put a lot of effort into not only efficiency, but also product design by choice of materials. We have silencers built up as modules, hybrid designs to keep the weight down but maintain a long life cycles - and even carbon - for the avid hunters that are looking for premium products.
MODELS:
Optima Rifle Suppressors:
The Optima family consists of three different products wich all are in a modular design that makes it possible to change the two front modules to make it fit another caliber within the .224 - .375 range.
Extremely durable due to the hybrid design: A hardened aluminum alloy designed to handle high temperature, and a stainless steel core that will secure its lifespan to meet most shooters needs.
All Optima silencers comes with the unique A-Lock mini quick attachment.
Advice on suitability:
The Optima series is designed specifically for hunting and stalking where shot strings are usually just a few shots. The A-Tec Optima series of suppressors prioritise lightweight first, which means their high temperature resistance is less than the A-Tec H2 series. Excessive heat is bad for the Alloy components of the Optima unit.
When using the Optima suppressor; the user must limit it's exposure to high heat by:
Limiting the round count per shot string and letting it cool between strings. The manufacturer guidance is 5 shots max per string.
Being careful with shortened barrels. On short barrels the combustion gasses are usually still burning when they enter the suppressor which greatly increase the heat. Limit the round count further on short barrels, e.g. 3 shots.
Being careful with high heat calibres like magnums. Limit the round count further on high heat calibres, e.g. 3 shots.

As a rough guide, if the Optima suppressor is too hot to keep your hand on it, it should be left to cool before the next shot string. Test the Optima on your rifle and feel the suppressor between each shot to judge the heat. Keep your hand on it for thirty seconds.

If you are a high heat operator, doing activities such as: pest control, target shooting, magnum shooting, mag dumps; then we recommend our H2 suppressors for these purposes
Please refer to the care and maintenance and disclaimer for further information
H2 Rifle Suppressors:
H2 is Hertz version 2 and replaces all our Hertz models. It has improved technology and it is very effective on the first round pop/cold barrel shot. H2 is module-based to give the user the option to mount it as a 1, 2 or full 3 modules version. Available in standard diameter 49.4 mm or as Mega H2 with 64 mm diameter. 
All H2 suppressors comes with the unique A-Lock mini quick attachment
THE A-LOCK SYSTEM

A-LOCK MINI changes how you attach and detach your silencer. It changes what you look for in a silencer and it will change your view on threads. You want a silencer with A-LOCK mini: The greatest little thing A-TEC have ever made.

 
A-LOCK Mini Adapter
With A-LOCK mini you attach and detach your silencer with a short 60 degree twist using similar amount of force/torque as with regular threads. It takes literally less than a second. The durable design withstands wear and tear better than regular threads.
A-LOCK mini will be made to fit most threads so you will not have to change the thread on your barrel.
Available threads for a-lock mini:
½"-20 UNF | ½"-28 UNEF | 5/8"-24 UNEF | 3/4"-24
M13x1 | M14x1 | M14x1,5 | M15x1 | M16x1 | M17x1 |M18x1
 A-LOCK Mini Muzzle Brake: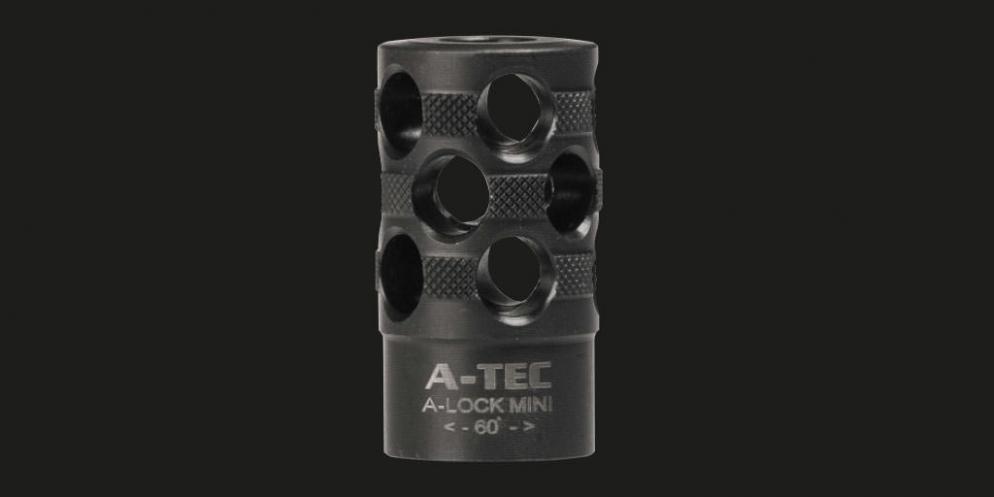 The A-LOCK Mini Muzzle Brake is designed to be as small and effective as possible. This is perfect for training and driven hunts due to suppression of muzzle rize and recoil during rapid fire.
With the A-LOCK mini on your barrel you can switch between silencer and muzzle brake within seconds. A-LOCK Mini Muzzle Brake fits any caliber up to .375.
Shotgun Suppressor:
A12:
The A12 shotgun silencers hit the market in 2017 and was a immediate success. A-TEC continue to develop silencers for shotguns, but as for now there is only A12 available.